Address
1335 Carling Ave #106
Ottawa, ON
K1Z 8N8
Hours
Mon-Fri: 8 am to 4pm
Every 3rd Thursday: 10am to 7pm
Looking for comprehensive dental care in Ottawa, ON?
Dr. El Deeb Family Dental Care offers highly skilled dentists who offer state-of-the-art general, cosmetic, and family dental care in Ottawa. Our practice provides gentle, family-oriented dental care to the adults and children of Ottawa.
"I am extremely happy to have Dr. El Deeb as my new dentist. She is very thorough and explains everything very clearly – in words I understand. I also, feel she cares about her patients and it is not all about the money. The rest of the staff are excellent as well. I would recommend this dental practice to anyone."
-Carol C

Contact Our Team Today!
Call us at 613-729-9933 or leave us your contact information on the form & we will reach out ASAP.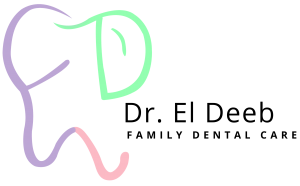 We are dedicated to providing high-quality dental care that looks after our patients's oral health in the most warm, caring and respectful environment.
Monday: 8:00am - 4:00pm
Tuesday: 8:00am - 4:00pm
Wednesday: 8:00am - 4:00pm
Thursday: 8:00am - 4:00pm
Friday: 8:00am - 4:00pm
Every 3rd Thursday:
10:00am - 7:00pm
1335 Carling Ave #106
Ottawa, ON
K1Z 8N8